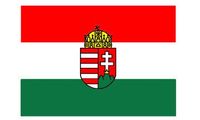 The Hungarian Community Club of Wallingford was founded in October of 1918 with the union of The First Hungarian youth Club and Senior Hungarian Men's Club. The Club's building site at 147 Ward Street was completed in December 1924 celebrated with a Gala New Years party.
The Hungarian Club firmly established itself as an important base for our Hungarian Heritage and now serves as a cultural center and event/ meeting place. The Club is available for rental by groups, clubs and organizations.
SUNDAY, DEC 4th * 12:30 LUNCH * 2pm ST. NICHOLAS
WHY SHOULD I BECOME A MEMBER
We realized that we seldom enumerate the benefits of being a member of the Wallingford Hungarian club. For our low  annual fees you can actually save on rentals and events.
Our main hall rental usually $500.00 is, for members only $150.00 saving you $350.00!
On some events there is a $5.00 discount.
Our large kitchen is available for rental for only $50.00
But most of all you meet friends. You keep Hungarian traditions alive.
So, if you haven't joined yet-click the link. Print and send in the membership form. 
2022 PRINTABLE MEMBERSHIP FORM